Zatímco se McCoy zabýval spícím mužem, Kirk nelitoval námahy a sesbíral u svých důstojníků další informace.
"Pokud jsem vůbec schopen přesně určit jejich kurs," odpověděl Spinelli, který vystřídal Sulua u kormidla, "museli původně letět k systému Tau Ceti."
"To by dávalo smysl. Je to poblíž sluneční soustavy a obíhají tam tři obyvatelné planety."
"Ano, pane, jenže nikdy by se tam nebyli dostali. Jejich řídící trysky na levoboku zničil meteorit a náraz je zároveň odklonil z kursu."
"Scotty, našels nějaké deníky nebo záznamy?"
"Ne, kapitáne. Museli být hibernovaní hnedle od startu."
"A co lodní náklad a vybavení?"
"Hlavně věci potřebný pro kolonizaci planety," řekl inženýr. "Jenže taky spousta zbraní. Počítám, že to bylo pro jejich období typický. Dvanáct z kójí funkčně selhalo, zůstalo sedmdesát dva stále v chodu. Asi dvanáct z nich jsou ženy."
"Sedmdesát dva živých," opakoval Kirk. "Pane Spocku, dospěl jste k nějakým závěrům?"
"Nic podstatného, kapitáne. Plavidla třídy CZ-100 byla určena pouze pro meziplanetární lety - nikoliv pro mezihvězdné."
"Řekli si, že se pokusí o štěstí."
"Jistě," souhlasil první důstojník. "Ale proč?"
"Možná proto, že se život na Zemi pro ně stal v průběhu válek nesnesitelný."
"Kapitáne, odhadněte výdaje, které by museli vynaložit jen pro začátek. Zdraví, dobře situovaní mladí lidé by přece uvažovali o nějakém méně nákladném způsobu, jak přežít - a nepáchali by takhle drahou sebevraždu. Měli šanci jedna proti deseti tisícům, že se na Tau Ceti dostanou, a určitě to věděli. A co víc: proč není jejich pokus nikde zaznamenaný? Samozřejmě záznamy nejsou kompletní, ale první mezihvězdný let - jméno Botany Bay by mělo být zaneseno v tisících archívech a přinejmenším alespoň jednou by se mělo dochovat. Jenže nic takového neexistuje."
"Botany Bay. Hmm. Poručík McGiversová mi řekla, že to byla trestanecká kolonie na australském pobřeží. Může to mít nějakou spojitost?"
"Máte na mysli deportační loď?" zeptal se Spock. "Logika zase kulhá. Vaše Země stála na pokraji další doby Temna. Bombardováním byly vyhlazeny celé národy. Skupinka zločinců se dala zlikvidovat mnohem méně nákladným způsobem než tím, že se vystřelí do vesmíru v technicky nejdokonalejší lodi té doby."
"Chytřejší teorii jsem nevymyslel. Čekám na vaši."
"Ještě jsem neshromáždil fakta, kapitáne. William Occam prohlásil, že bez dostatečného podkladu ani tisíc doměnek nemá smysl. Navrhuji, abychom odtáhli Botany Bay na nejbližší Hvězdnou základnu a tam ji podrobně prozkoumali."
Kirk o návrhu zauvažoval. "Dobře. Připravte vlečný paprsek. Zatím se půjdu podívat na pacienta."

Muž vyvržený ze své doby ležel v lodní nemocnici sice ještě stále v bezvědomí, ale už dýchal pravidelně. Po straně stála Marla McGiversová a neodtrhovala od něj oči.
"Jak mu je, Kostro?"
"Podle všech kritérií by měl být mrtvý," odvětil McCoy stručně.
"Falešná skromnost?"
"V žádném případě. Něco umím, ale tolik zas ne. Tříkrát se mu zastavilo srdce. Když se mi je podařilo potřetí znovu přimět, aby pracovalo, na okamžik se probral, usmál se na mě a zeptal se: 'Jak dlouho?' Řekl jsem mu, že několik set roků. Znovu se usmál a usnul. Pak se mu srdce zastavilo po čtvrté a ať se na místě propadnu, jestli si je ten chlap nedokázal spustit úplně sám. Má v sobě něco, co se odmítá smířit se smrtí."
"Musí mít tělesnou konstituci jako býk."
"To není tak úplně metafora," řekl McCoy a ukázal na panel, kde přístroje ukazovaly průběh tělesných funkcí. "Podívej se sem. Dokonce i v současném stavu vytlačí jeho srdce při jedné systole dvojnásobný objem krve než tvoje nebo moje. Vitální kapacita plic o padesát procent větší. A ta statečnost! Ať už je to kdokoli, ať pochází odkudkoli, jistě bude radost si s ním promluvit."
Kirk pohlédl na Marlu a pak tiše řekl lékaři: "S tím můžu jen souhlasit."
Marla, zjevně jeho poznámkou povzbuzená, se zeptala: "Bude žít?"
"Jestli se dokáže ještě trochu sebrat, možná bude," odvětil McCoy naježeně. "Počkejte si venku, oba dva. Tohle je nemocnice, ne společenská místnost."
Kirk se zakřenil, vystrčil Marlu ze dveří a následoval ji. Ještě než vyšla do chodby, oslovil ji:
"Poručíku?"
Zastavila se a obrátila se k němu. Kirk pokračoval:
"Poručíku, kdybych byl nucen ohodnotit vaše dnešní vystupování jako člena výsadkové skupiny, nedal bych vám příliš vysokou známku."
"Já vím, kapitáne," řekla. "Omlouvám se."
"To ještě není všechno. Bezpečnost celé téhle lodi v každém okamžiku závisí na chování jednotlivých členů posádky. Skutečnost, že vás cizí muž osobně přitahuje, je ta nejhorší možná omluva."
"Osobně?" začervenala se. "Kapitáne, moje druhá specializace je historie. Nalézt... svědka minulosti, živého... už pouhé pomyšlení na to, co by mi mohl povědět..."
"A nejen povědět," řekl Kirk. "Muži byli tenkrát zajímavější, troufalejší, dobrodružnější..."
Na zlomek vteřiny se odmlčela.
"Ano, pane," odvětila potom pevně. "Myslím že byli."
Kirk pokývl. "To už je lepší. Když vidím čestný přístup, dokážu chyby prominout - přinejmenším poprvé. Můžete jít."

Jakmile odešla, Kirk se s úsměvem obrátil k McCoyovi, který ho celou dobu pozoroval.
"Škoda," řekl lékař, "že marníš čas velením lodi, Jime. Mohl by z tebe být dobrý psycholog."
"Díky, Kostro, ale velení je lepší. V něm se všechny obory spojují."
"Zásah - nebo mám říct šach mat?"

O několik hodin později zavolal McCoy Kirkovi na můstek. "Kapitáne," řekl mu, "mám tady pacienta, který na mě chrlí dotazy - a kromě toho ti s radostí oznamuju, že ještě víc takových pacientů a můžu medicínu pověsit na hřebík. Můžes ke mě zaskočit?"
Muž z Botany Bay, nyní oblečený do blůzy ze zásob Enterprise, ležel ještě v posteli, ale už byl při vědomí - při velmi aktivním vědomí. Kirk se mu představil.
"Děkuji, kapitáne," řekl cizí muž. "Ŕíkali mi, že jsem prospal dvě století, nebo možná ještě víc, a že jsem na palubě skutečné mezihvězdné lodi - ne náhražky jako byla ta moje. Kam míříme?"
Kirka jeho slova pobavila i otrávila zároveň. "Neprozradil byste mi laskavě nejprve své jméno?"
"Ne, to bych neprozradil. Mám velkou zodpovědnost. Jestli jste skutečně velitel, znáte to sám. Kam letíme?"
Kirk se rozhodl, že pro tuhle chvíli ustoupí. Nemělo smysl ihned se střetnout s člověkem, který se dostal až na práh smrti, i kdby se choval sebearogantněji.
"Míříme k Hvězdné základně 12, kde sídlí velení tohoto sektoru."
"Což je kde?"
"Pochybuju, že když vám identifikuju sektor, pochopíte, oč jde. Rozkládá se mnoho parseků za sluneční soustavou, a náš galaktický souřadnicový systém pravděpodobně nesouhlasí s tím, jaký jste používali vy."
"Galaktický," řekl muž. "Rozumím. A co moji lidé?"
"Sedmdesát dvě kóje ještě fungují. Vaše lidi oživíme, jakmile dorazíme na Hvězdnou základnu 12. Nejprve chceme vidět, jak se nám vyvede oživit vás."
"Logické, praktické a nesentimentální, to schvaluji. Začínám být unavený. Můžeme pokračovat ve vyptávání jindy?"
"Vy jste mi dosud neodpověděl ani na jednu otázku," řekl Kirk, "všechno jsem si musel vydedukovat."
"Omlouvám se," řekl najednou rozložitý muž. "Jmenuji se Khan. Velím kolonizační výpravě Botany Bay. Myslím, že bych pravděpodobně odpověděl na vaše otázky lépe, kdybych věděl, v jaké žijete době, znal vaši terminologii a tak dále - snad by posloužilo, kdybych si během rekonvalescence něco přečetl. O historii, technice, všechno co je dostupné."
Jeho žádost se zdála rozumná.
"Doktor McCoy vám ukáže, jak se ze svého monitoru dostanete na záznamy v knihovně. A myslím, že poručíka McGiversovou potěší, když vám bude moci dát pár lekcí z historie."
"Výborně," zasmál se Khan. "Mám dohánět dvě stě roků. Já..."
Náhle se mu zavřely oči. McCoy pohlédl na panel registrující hodnoty životních funkcí.
"Usnul," řekl. "No, jsem rád, že má taky nějakou lidskou slabost."

Kirk si uvědomil až cestou zpátky na můstek, jak málo mu toho Khan prozradil. Rozezlený především na sebe odchytil Spocka u počítače.
"Máte něco?"
"Žádné zmínky o mezihvězdných letech až do expedice k Alfa Centauri v roce 2018," odpověděl první důstojník. "Jak se daří pacientovi?"
"Je arogantní - a chytrý. Mimořádně fyzicky zdatný. A má neobyčejné kouzlo osobnosti. Něco takového jsem u člověka z dvacátého století vůbec neočekával."
"Zajímavé. Možná je to produkt selektivního rozmnožování."
"Taky mě to už napadlo," připustil Kirk. "Kdybych potřeboval supermana, tenhle je velice blízko výsledku, na který bych se zaměřil."
"Přesně tak, kapitáne. Je to přímo kvintesence pozemských snů o síle a výkonnosti. A soudě podle toho, co jsem si dal dohromady z trosek záznamů, patří přesně k tomu druhu lidí, kteří zavinili chaos v devadesátých letech dvacátého století."
"Ano? Myslel jsem, že to byla skupina vědců."
"To je částečně pravda," odvětil Spock, "a podle mého soudu, částečně pohodlná smyšlenka. Vědci opatrně organizovali křížení mezi sebou a aplikovali genetické poznatky na svoje vlastní potomstvo. Sportovci a zrůdy se objevili až po začátku války a téměř jistě to byly spontánní mutace vyvolané radioaktivitou okolního prostředí. Vědci byli nad toto povzneseni a snažili se vyšlechtit něco, čemu říkali Homo Superior."
"To je fakt?" potvrzoval si Kirk. "Anebo zase další legenda o šílených vědcích?"
"Převážně dedukce," řekl Spock. "Ale takoví vědci existovali. Ne šílení - rozhodně ne nepříčetní. Byli to lidé oddaní vědě, kteří doufali, že jejich potomci vyrostou a nekrvavým způsobem převezmou vládu, aby ukončili války, hladomor, odstranili touhu po majetku a po moci. Měli vznešené cíle, kterých samozřejmě nebylo možno dosáhnout."
"A náš pacient?"
"Jedno z těch dětí. Věkem by to souhlasilo. Skupinka agresívních, arogantních mladých lidí skutečně převzala vládu nad více než čtyřiceti zeměmi. Jenže se přecenili, to co získali nebyli schopni udržet. Tolik fakta. A ještě jedna věc, kapitáne. Víte, že nějakých osmdesát či devadesát těchto lidí se nikdy nedostalo před soud, že je po skončení všech zmatků už nikdy nikdo nikde nenašel? Jejich mrtvoly, hroby, prostě ani stopu?"
"Jistěže ne," řekl Kirk.
"A přitom je měli objevit, nebo úřady měly prostě předstírat, že se našli. Umíte si představit, jakou paniku mezi ostatními, válkou zdecimovanými a vyhladovělými lidmi probouzelo pomyšlení, že těch osmdesát Napoleonů může být stále ještě naživu? A kapitáne..."
"Ano, pane Spocku," řekl Kirk těžce. "Nedokážu s vámi sice držet krok co se týče logických dedukcí, ale dokonce i já vidím, kam míříte. Domníváte se, že těch osmdesát Napoleonů je stále ještě naživu - že jich devětasemdesát táhneme za sebou a jednoho máme přímo na palubě."
"Přesně tak, kapitáne."
Kirk o tom chvíli uvažoval.
"Vše pro to svědčí," řekl. "Ale musíme se vyrovnat s jednou věcí - nemůžeme získat zásadní informace odnikud jinud, vyjma od Khana samotného. Drží to v sobě jako v sejfu z tantalové slitiny, takže to z něj nikdy nevymáčkneme. Můžeme se pokusit to z něj vymámit - což pravděpodobně nezapůsobí nikdy. Možná bychom na něj mohli taktikou jeho vlastní doby, abychom ho odzbrojili. Uvidím, co navrhne poručík McGiversová."

Poručík McGiversová navrhla slavnostní oběd na uvítanou kapitána Khana do třiadvacátého století, jehož se zúčastnili všichni vyšší důstojníci na Enterprise. Bylo na ní patrné, že zdaleka není nezúčastněná, a Kirk podezíral Khana, že už stačil dobýt svého prvního válečného úspěchu v tomto století. Jenže neexistovalo žádné nařízení, které by zapovídalo lásku na lodi, a Kirk beztak neměl po ruce nic lepšího.
Marla se objevila s novým, zcela anachronickým účesem, což jen pořádně podpořilo Kirkovo podezření. Pokud se týkalo Khana, neodvažoval se hádat, jestli jej okouzlila, nebo ne. Naopak to byl on, kdo okouzloval všechny ostatní. Zdálo se, že není situace, v níž by se necítil jako doma - ke správnému odhadu mu stačilo jen pár minut kontaktu.
Ovšem potom, po brandy, se najednou ukázalo, že přinejmenším jeden důstojník na Enterprise nedokáže ocenit Khanův šarm, přestože bije přímo do očí.
"Stále ještě jste nám neřekl," ozval se Spock, "proč jste se rozhodl k mezihvězdné cestě, kapitáne Khane - ani jak jste dokázal zařídit, že se o ní v žádných záznamech neobjevilo ani slůvko."
"Touha po dobrodružství, pane Spocku. Na Zemi už toho zbývalo tak málo, čeho se ještě dalo dosáhnout."
"A co třeba svrhnout krutovládu vzešlou z Eugenické války," namítl Spock. "Řada lidí to považovala za poslání hodné jejich úsilí."
"Marnění ducha na poušti zmaru," odvětil Khan. "Ostatně na Eugenickém tažení bylo mnoho ušlechtilého. Byl to poslední velký pokus, přinejmenším v mé době, jak sjednotit lidstvo."
"Něco jako nahnat stádo koní pod jeden bič?"
"Odmítám to považovat za urážku, pane Spocku," řekl Khan žoviálně. "Vytvoříte-li tým, dají se zvládnout velké úkoly. Byla to doba velkých snů... velkých cílů."
"Doba velkých cílů pod malými diktátory? To do té doby historie neznala."
"Nesouhlasím," odvětil Khan. "Vládnout musí jeden, ne stádo. Jen vzpomeňte, jaký rozkvět doznal Řím pod vládou Augustovou - kapitáne Kirku, vy mi jistě dobře rozumíte. Necháváte svého zástupce, aby mě napadal a prostřednictvím mne vás; sám zůstáváte potichu a hledáte slabá místa. Dobrá taktika."
"Máte sklony," odvětil Kirk, "vyjadřovat své myšlenky výhradně ve vojenských termínech, kapitáne Khane. Jenže tohle je společenská záležitost."
"Kdysi někdo řekl," odpověděl Khan lehce, "že společenský život není nic jiného než potlačené válčení. Mnoho lidí považuje válku za čestnější a otevřenější."
"Jenže na Zemi vypukla válka," vložil se Kirk. "A přece se zdá, že jste odtamtud uprchl."
"S prakticky zničenou planetou toho už moc nenaděláte."
"Stručně," řekl Spock, "dostal jste strach."
Khanovi se zablýsklo v očích. "Nikdy jsem se ničeho nebál."
"A to vás teď děsí, že?"
"Jak to? Nerozumím vám, pane Spocku. Jak mě může děsit, když jsem se nikdy ničeho nebál. Jedno přece vylučuje druhé."
"Vůbec ne," odvětil první důstojník. "Výrok s nulovým obsahem v množině výroků není v rozporu s žádným s daných výroků."
Khan už se začínal tvářit podrážděně. Kirk, který se v skrytu duše dobře bavil, si přisadil: "Lituji, kapitáne, ale právě jste vyvolal ducha páně Spockovy logiky. Teď mu asi tak deset minut nikdo z nás nebude rozumět. Nicméně se domnívám, že na jeho stanovisku něco je. Říkáte, že jste nikdy nepocítil strach, a přece jste opustil lidstvo právě ve chvíli, kdy nejvíc potřebovalo povzbudit odvahu."
"Odvahu! Jak chcete vlít odvahu do ovcí? Nabídl jsem světu řád. Řád! A co se stalo? Podlehli panice. Neopustil jsem nic, co by stálo za záchranu."
"Pak tedy," řekl Spock, "si myslíte, že tuto loď, abych nechodil pro příklad daleko, postavily ovce, když přestaly panikařit? Teď už neberu v pochybnost vaši logiku, kapitáne Khane, ale začínám nedůvěřovat vašemu zraku."
Marla, která seděla od počátku debaty naprosto mlčky, vyskočila tak prudce, že se káva rozlila všude po stole.
"Nikdy jsem si nemyslela," prohlásila třesoucím se hlasem, "že se někdo na lodi může tak hrubě chovat k hostu."
"Choval jsem se snad hrubě já?" zeptal se Spock a mírně zvedl obočí. "Pokud ano, pak se omlouvám."
"Já taky," řekl Kirk a potlačil další úsměv.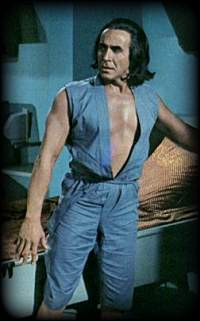 "Plně přijímám vaše omluvy," řekl Khan a rovněž se vztyčil. "Ale teď mě laskavě omluvte, dámy a pánové. Jsem na nohách už pěkných pár století a rád bych se vrátil do své kajuty. Zavedla byste mě zpátky, Marlo...?"
Kirk mírně pokynul hlavou a Khan s Marlou odešli následováni všemi hosty vyjma Spocka. Když se místnost vyprázdnila, Kirk řekl:
"A to o mně McCoy tvrdí, že jsem skvělý psycholog! Nikdy v životě jsem neviděl hloupější popichování, pane Spocku."
"Já osobně z toho nejsem nijak šťastný, kapitáne," odvětil první důstojník. "Lidská polovina mojí krve ze mně vždy vyprchá, právě když ji potřebuji nejvíc. Ten muž se jmenuje Khan Noonian Singh. Od roku 1992 do roku 1996 byl vojenským náčelníkem části vaší planety od jižní Asie až po Střední Východ, a zároveň posledním v té době ještě nesvrženým diktátorem. Jistě ho mnoho lidí obdivovalo, to se u mužů tohoto druhu stává. Za jeho vlády byla svoboda velice omezována, ale také nedocházelo k žádným masakrům. A do války se pustil teprve tehdy, když ho napadl jeden z méně vlivných diktátorů jeho vlastního rodu. Je to člověk silný, který umí užívat moc a kterého měli obdivovat lidé, kterým on říká ovce. Lidé, kterým připadá mnohem pohodlnější, když je někdo vede."
"A tohle všechno jste zjistil jen na základě toho, co říkal dnes večer? Řekl bych, že je to ohromné."
"Tohle nás teď netlačí," uhnul Spock. "Zásadní otázka je, proč utekl? Doufal jsem, že z něho dostanu právě tohle, ale nachytal mě. Neříkal bych tomu příliš dobrá psychologie."
"Chápu co máte na mysli," prohodil Kirk zamyšleně. "Dokud nepřijdeme na tohle, nebudeme vědět, co má za lubem teď - neboli, jaké riziko podstupujeme, když oživíme těch dalších semdesát nebo kolik. Takhle hrajeme naslepo jakýsi gambit... Ale je tu ještě něco jiného. Jaký smysl měla ta otázka, jestli se bojí toho, že zatím nikdy neměl z ničeho strach? Nejdřív jsem si myslel, že vím kam míříte, ale pak jste mě utopil ve svém logickém extempore. Není tahle otázka právě něčím, co byste nazval tautologií?"
"Ne, kapitáne," řekl Spock. "Ale snažil jsem se, aby to tak vypadalo. Nepokoušel jsem se zmást vás, ale kapitána Khana - a myslím, že alespoň v tomhle bodě se mi to podařilo. Strach je základním pudem nutným pro přežití každého tvora schopného vnímat. Pokud necítí strach, nikdy nemůže vědět, kdy má utéct - a přece kapitán Khan utíkal. A jestli tvrdí, že nikdy strach nepoznal, jaký jiný důvod může mít?"
"Hmm," řekl Kirk. "Nikdy jsem neviděl jediného tvora schopného vnímat, který by nepociťoval strach, když to byla reakce přiměřená situaci. Nicméně, Khan se v tomhle ohledu tvářil velice přesvědčivě."
"Strašlivě přesvědčivě," souhlasil Spock. "A právě to, kapitáne, mě děsí."
Ještě nikdy žádný Spockův výrok Kirka tak nepřekvapil jako právě tenhle. Zatímco hleděl na svého prvního důstojníka a na vyprázdněnou místnost, čímsi smutnou, se zbytky po slavnostním obědě, zadrnčel mu v uších poplachový signál.
"Abrams z bezpečnostního, kapitáne. Khan zmizel."
"Tady McCoy. Khan tu není. McGiversovou taky nikdo neviděl, dokonce ani v její kajutě. On tam taky není."
"Tady přenosová místnost. Máme knokautovaného jednoho strážného, poručík Adamski zmizel. Během poslední půlhodinky byla spotřebována spousta energie."
"Hlásí se Scott. Já..."
"Uhuro, co se stalo se Scottym? Obnovte spojení!"
"Kanál je mrtvý, kapitáne. A nemůžu se spojit ani se skladištěm zbraní."
"Spocku, pošlete někoho dolů."
"Všechny turbovýtahy stojí. Nouzové šachty jsou zablokovány."
Světla začala slábnout. "Baterie!"
"Obvody akumulátorů jsou odpojené, kapitáne. Podpora života je také vypnutá."
"Technické oddělení! Scotte! Co se to tam dole děje? Scotty?"
A pak se ozval Khanův hlas. Vycházel přímo z Uhuřina hlavního panelu, ačkoliv si Kirk marně lámal hlavu s tím, jak přiměl vyřazené obvody k činnosti.
"V tomto okamžiku není schopen s vámi mluvit, kapitáne," řekl Khan. "Bohužel vaše loď je teď moje - či spíše naše. Mám svoje lidi prakticky na všech klíčových místech. Všechny funkce jsou zablokovány. Máte asi tak deset minut, než se začnete dusit. Chcete s námi vyjednávat?"
"Uhuro, můžete se spojit s velitelstvím Flotily?"
"Ne, pane, komunikační uzel je zcela vyřazen z provozu. Nemůžu dokonce ani vystřelit bóji se zprávou."
"Překrásné," podotkl jemně Spock.
Zbývala poslední možnost. "Bezpečnostní opatření číslo pět. Dekomprese všech palub."
"Odpojeno, kapitáne. Zdá se, že kapitán Khan je velice učenlivý žák."
"Můžeme přikročit k šestce?" To znamenalo vypustit do atmosféry lodi radioaktivní plyny ze směšovacích komor a zabít tak všechny na lodi. Ale...
"Ne, pane, nemůžeme. Nezůstalo nic, jen Autodestrukce. Tu pořád ještě ovládáme."
"Vzduch tam u vás nahoře už musí být docela jedovatý," pronesl Khanův hlas. "Nezbývá vám mnoho času."
"Co chcete, Khane?"
"Předat velení můstku."
"Odmítám," řekl Kirk.
"Dobře. Stejně je to jen akademická záležitost. Za deset minut budou všichni na můstku mrtvi."
Pak už se Khan neozval. Vzduch se pozvolna vydýchával. Po chvíli se propadli do bezvědomí všichni kromě Kirka... a pak... a pak...
Kirk se probral, značně překvapený, v konferenční místnosti. Zdálo se, že všichni jeho lidé jsou s ním - sice slabí, ale všichni naživu. Pečlivě je střežil Khan se skupinou mužů, kteří se mu velmi podobali, všichni svírali v rukou phasery z výzbroje Enterprise. Muži z Botany Bay představovali bezesporu úchvatné exempláře - byli vysocí, zdraví, pohlední, a především ostražití.
"Výborně," řekl Khan. "Teď si můžeme promluvit. Sledujete, kapitáne, nic se nemění, kromě člověka. Vaše technická převaha je iluzorní, jsou to jen nástroje k lidskému použití. Klíčem je pokaždé člověk jako takový. Zdokonalte technická zařízení a zdvojnásobíte si svou produktivitu, ale když zdokonalíte člověka, znásobíte produktivitu tisíckrát. Usuzuji, kapitáne, že vy jste člověk stejného druhu jako já. Bylo by od vás moudré, kdybyste se ke mě přidal."
Kirk neodpověděl ani slovem. Khan se obrátil na Spocka.
"Svádí mě," řekl Spock, "abych obdivoval vaši taktiku... ale bohužel ne vaši filosofii. A z historie je mi známo, že samozvaní supermani dosahují spíše špatných výsledků. Uvidíme, jak dokážete sami řídit loď."
"Uvidíme. Mou nabídku tímto považujte za zrušenou. Navigátore, naberte kurs na nejbližší kolonizovanou planetu - takovou, která má přístav a obyvatelstvo, co se nebojí disciplíny."
"Táhni k čertu!" řekl Spinelli.
"Je to tak, jak jsem si myslel," ozval se Spock. "Vy možná už znáte Enterprise dobře, kapitáne, jenže vaši čerstvě oživení kolegové ne. Počítám, že to dáme za remízu."
"Opravdu? Doktore McCoyi, vy máte v laboratoři dekompresní komoru, že ano? Jistě, já to vím. Joaquine, zaveď do ní kapitána Kirka. Zavři ho tam a sniž tlak na nulu. Věřím, že vy ostatní chápete, co to znamená. Můžete ho toho ušetřit. Nechci nic víc než vaše slovo, že budete dál vykonávat své povinnosti."
"Nikdo," řekl Kirk ochraptěle, "nesmí pohnout ani prstem, aby mě zachráníl. To je rozkaz."
"Ale já neblufuju," řekl Khan mile. "Samozřejmě, jestli dopustíte, aby zemřel kapitán Kirk, budete ho do komory následovat pěkně jeden po druhém."
Kirk pohlédl na Marlu. S široce rozevřenýma očima zírala na Khana. Zjevně se dělo něco, s čím původně nepočítala.
Z nástěnného interkomu se ozvalo zavřísknutí a potom vzrušené hučení mnoha podrážděných hlasů.
"Khane," pronesl neznámý hlas, "tady Paul, rekreační místnost. Začínají se mi tu bouřit. Možná jich budu muset pár pobít."
"V tom případě pobij."
"Ne!" vykřikla Marla. "Mám tam přátele... Khane, prosím tě! Kdybych si s nimi mohla promluvit... uklidnila bych je... Není přece třeba je zabíjet."
"Můžeš se o to pokusit," souhlasil Khan. "Ujisti se, že chápou, že ze zabíjení nemám žádné výčitky svědomí, pokud jsem k tomu donucen."
Stráže vystrkaly Kirka ven a v závěsu za nimi odešla Marla. Možná se ještě nestačili seznámit se všemi podrobnostmi, ale určitě už znali cestu do McCoyovy laboratoře. Nacpali Kirka do dekompresní komory takovým způsobem, jako by nedělali nic zajímavějšího než vkládali do autoklávu stojánek se zkumavkami. Dveře se zabouchly a okamžik nato už Kirk zaslechl, že začala pracovat čerpadla.
Z jakéhosi důvodu nepociťoval zděšení, ani rezignaci. Jeho hlavním pocitem byl strach, že se už podruhé za jedinou hodinu začne dusit. Ovšem nezdálo se, že by proti tomu mohl něco podniknout.
Pak dveře zasyčely a otevřely se. Kirk opatrně vyšel ven. Jeden ze supermanů, ten, kterého oslovovali Joaquin, ležel v bezvědomí na podlaze. Nad ním stála Marla a v rukou nemotorně svírala hasák. Druhý strážce se někam ztratil.
"Jste v pořádku?" zeptala se Marla rozechvěle.
"Myslím že jsem. Tlak zatím nestačil příliš poklesnout. Rád vidím, že jste taky k něčemu dobrá." Zastavil se a zvedl ze země Joaquinův phaser.
Marla ho uchopila za paži. "Prosím vás, kapitáne..."
"Ano?"
"Zachránila jsem vám život. Slibte mi, že... že ho nezabijete."
"Nic neslibuju," odvětil Kirk a rozhlédl se po laboratoři. Po chvíli spatřil, co hledal: nádobu s narkotickým plynem, který používal McCoy, když chytal různé cizí živočišné druhy. Rozradostněně si s ní pohodil. "Zůstaňte tady a pokuste se nenamočit do průšvihu víc, než už jste. Chystám se nachytat pro nějaké zoo opravdu výběrové druhy."
Vůbec to nebylo snadné. Než všechno skončilo, jeden ze supermanů byl mrtvý a prakticky každý na obou stranách pěkně potlučený. Konečně byli muži, kteří přežili cestu Botany Bay, zamčeni ve skladišti, a Kirk se společně se svými důstojníky shromáždil v konferenční místnosti.
"No, pane Spocku," řekl kapitán, "myslím, že teď už všichni víme, proč odletěli ze Země."
"Ano, pane. Aby se zbavili té chátry a začali znovu. Podle mého názoru by se jim to nikdy nebylo podařilo, dokonce i kdyby nalezli obyvatelnou planetu. Člověk, který nemá strach, je těžce handicapovaný."
"Chystám se to vyzkoušet. Přiveďte sem Khana, prosím."
Stráž přivedla Khana a za ním Marlu. Oba se tvářili vzdorovitě.
"V této chvíli," řekl Kirk, "kroužíme kolem planety v soustavě, o které nic nevíte a o které vám ani nic bližšího neřeknu. Je porostlá divokou vegetací a nehostinná, ale má dýchatelnou atmosféru a půda se dá kultivovat. Máte následující výběr: Buď vás na tu planetu vysadíme s minimem vybavení potřebného k přežití, nebo vás odvezeme na Hvězdnou základnu 12, kde se podrobíte rehabilitaci. Druhá možnost bude ve vašem případě drastická, ale umožní vám, abyste se zapojili do naší společnosti. Čemu dáte přednost?"
"Kapitáne," odvětil Khan, "předpokládám, že si pamatujete, co řekl Lucifer, když byl svržen do pekel?"
"Dobře si vzpomínám. Mám to považovat za vaši odpověď?"
"Ano."
"Možná vás bude zajímat, že systémový důstojník McGiversová, když dostala na výběr mezi polním soudem a sdílením vyhnanství s vámi, si vybrala to druhé."
Khan na ni pohlédl a usmál se. "Věděl jsem, že se v tobě nemýlím," řekl. "Máš v sobě oheň. Uvědom si jedno: máme přesně to, co jsme nakonec chtěli - planetu, na které budeme moci uskutečnit svoje představy." Obrátil se na Kirka. "A kapitáne, my na ní vybudujeme skvělou říši. Uvidíte."
"Jestli ano, pak si ji zasloužíte. Stráže, přeneste je dolů."
Khan vykročil bez ohlédnutí, ale Marla se ve dveřích obrátila.
"Sbohem, kapitáne," řekla. "Lituju. Ale já ho opravdu miluju."
"Přeji vám mnoho štěstí, poručíku."
Po chvíli ticha se ozval Scott.
"Je to sice hanba pro dobrýho Skota, ale musím přiznat, že si už svýho Miltona nepamatuju. Co vlastně řekl Lucifer, když byl sražen do pekel?"
"Lépe vládnout v pekle, než posluhovat v nebi. Pane Spocku, příprava k odletu. Chci se vydat na cestu co nejdříve."
"Ano, kapitáne. Co uděláme s Botany Bay?"
"Hmm... odhoďte ji do... ne, když nad tím tak přemýšlím, nechte ji ve vleku. Počítám, že nese na palubě ještě řadu věcí, na které se rádi podívají historikové. I když v téhle chvíli, když řeknu historik, přeběhne mi mráz po zádech."
"Uvažujme trochu dopředu," řekl Spock. "Bude zajímavé vrátit se do téhle soustavy za sto let a podívat se, jaká úroda vyrašila ze setby, kterou jsme dnes zaseli."
"To jistě bude," souhlasil Kirk. "Jenže já vám povím ještě něco jiného, pane Spocku. Jenom doufám, že za sto roků nebude ta úroda až příliš bohatá a nevzejde příliš vysoko... aby si naopak ona nenašla nás."